AstroMundus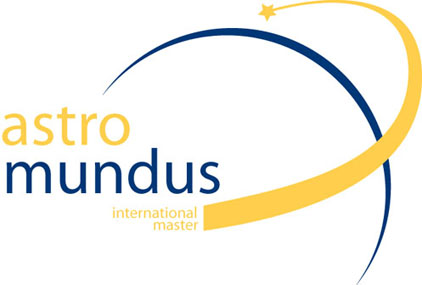 ABOUT THE PROGRAMME
AstroMundus was an international Master Course in Astronomy and Astrophysics that has been selected by the European Commission as an Erasmus Mundus Masters Course within the second edition of the Erasmus Mundus programme 2009-2013. AstroMundus was afterwards co-funded by the Erasmus+ programme. The programme oficially ended in January 2020. The Master course was jointly offered by
the Institute of Astro- and Particle Physics, University of Innsbruck, Austria
the Department of Astronomy, University of Padova, Italy
the Astrophysics section of the Department of Physics, University of Rome "Tor Vergata", Italy
the Institute for Astrophysics, Department of Astronomy, University of Göttingen, Germany
the Department of Astronomy, Faculty of Mathematics, University of Belgrade, Serbia
with the participation of the following associated partners:
Istituto Nazionale di Fisica Nucleare - Gran Sasso Science Institute (INFN-GSSI), Italy
Istituto Nazionale di Astrofisica (INAF), Italy
Astronomical Observatory of Belgrade (AOB), Serbia
Max Planck Institute for Solar System Research (MPS), Göttingen, Germany
The programme had a duration of 2 years (120 ECTS credits), was developed within a consortium of 5 Universities in 4 different countries (Austria, Italy, Germany, and Serbia), and was conducted in the English Language. A wide variety of expertise covered by international partnership ensured an excellent educational level in all branches of Astrophysics.
The selected students carried out their studies in at least 2 and up to 4 of the AstroMundus Consortium Universities and were finally awarded a Joint Master Degree, complemented with a Diploma Supplement, signed by all consortium Universities they visited during their studies.
More information about the AstroMundus programme can be found on the web-site: http://www.astromundus.eu/.